The Land Of Colour
WORDS:: Chyka Keebaugh
PHOTOS:: Lisa Atkinson
I love the absolute madness of Indian cities.
The people and the smells are something you have to experience for yourself; it is such an amazingly vibrant country with crowds of smiling faces everywhere. I have travelled throughout India extensively over the years for work and pleasure, each time finding something new to fall in love with.
When travelling through India, you can just feel the love and energy pumping through the cities. Indians just love to celebrate life. With their belief in Hinduism and reincarnation, there really is no reason not to live life to the fullest. So rich in history and surrounded by amazing architecture, walking the streets, wandering through palaces and driving through the outskirts of large cities you will not believe your eyes.
Every time you go you have to be prepared for the unexpected. One of my most favourite travel experiences in India was when we visited as a family for my Mum's 70th. We went to Ranthambore national park, staying in a tented hotel that was truly beautiful. We all got up at sunrise to drive through villages to find tigers! I know that sounds crazy, but we did, and after searching we came across a mother and her two baby cubs playing in the grass. It was the most amazing thing to see and a memory our family will never forget; out in the wild, in a beautiful country.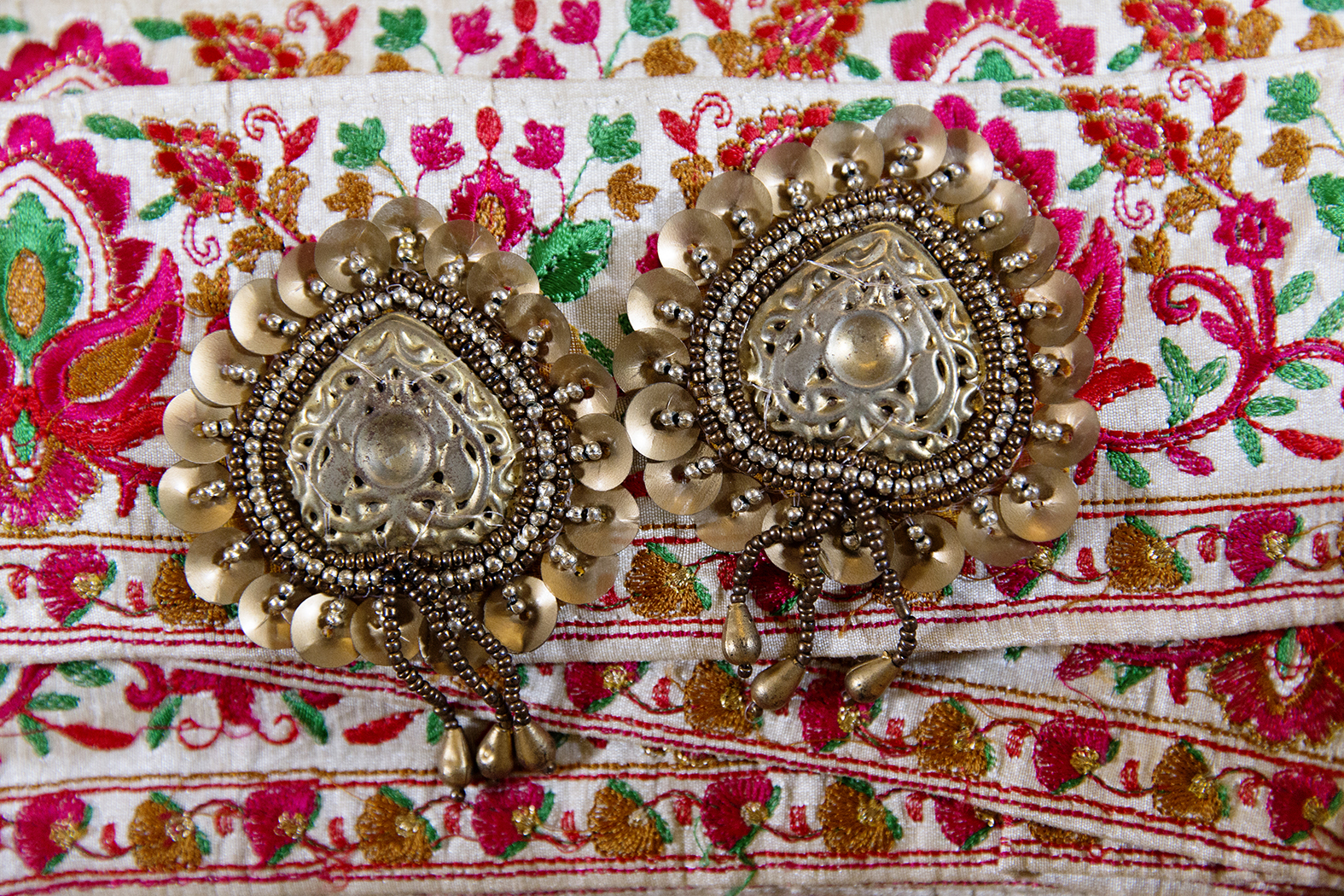 Going to old Delhi and walking around the market is one of my favourite things to do when I go to India. I can spend hours walking through the aisles touching every single piece of fabric, like a child in a candy store driving Bruce mad as I pick up and feel everything I can get my hands on. The colours, the textures, the details; everything excites me so much, as you can see by all the fun trinkets I have collected over the years.
When travelling to any country, I love finding out what certain areas are known for. India is all about textiles and details, so these areas and markets containing trims are my absolute favourite. It's hard to imagine what you could possibly need 9 metres of embroidered ribbon for (that's the length it's always sold in as that's how many metres are needed to trim a Sari) but don't you worry, I'll make use for it! Here are some fun ideas...
Trim a table cloth
Trim serviettes
Make cushions
Use as gift wrapping
Display on the roll, they are the perfect decorating item
Trimming clothing
I also love the amazing assortment of embellishments that are also used as trimmings, such as sequinned neck and arm pieces, pom poms, old coins and so much more. I am not ashamed to admit to having drawers of these things, because when they cost anywhere between $2-$200 how can you not! The variety is amazing and there really is so much to choose from. Once you get home you will be thrilled that you bought a few unexpected extras that you can get crafting or decorate your home with. The other thing I love is sourcing is old fabrics; usually embroidered and patchworked together, these look great made into cushions or even framed. I love having pieces that are a little different and are tokens of places you've been and relished.
My girlfriend Sarah has an amazing company called Canvas + Sasson. She has a lot of her products made in India and the last time I was there she asked me to help her with a big three day photoshoot. She used an incredible old hotel as the backdrop and boy, did we have fun! Around every corner was an incredible wall or doorway to use for a table setting, a cushion display or to create our own setting. Everyone was so intrigued with what we were doing that suddenly wherever we were working, extra people were milling around or just plain staring! I don't think I have ever been so hot but think the photos are gorgeous. What do you think?
Credits: Images from Canvas + Sasson