Celebrating Christmas with House & Garden
WORDS:: Chyka Keebaugh
Chyka.com PHOTOS:: Lisa Atkinson
I love this time of year, especially when I get to share it via a fantastic magazine like House & Garden.
It was so much fun doing this shoot where I really got to spread my decorative wings and work to a more stylised theme: the color green! Using one color, and not deviating from it, can be such a strong design statement, especially on an occasion that is usually so full of color.
Using balloons isn't a traditional Christmas idea. But like all parties, I want elements of fun and whimsy, so using balloons in a Christmas event gave it a different feel and mood, really giving the occasion a much-needed twist. What do you think?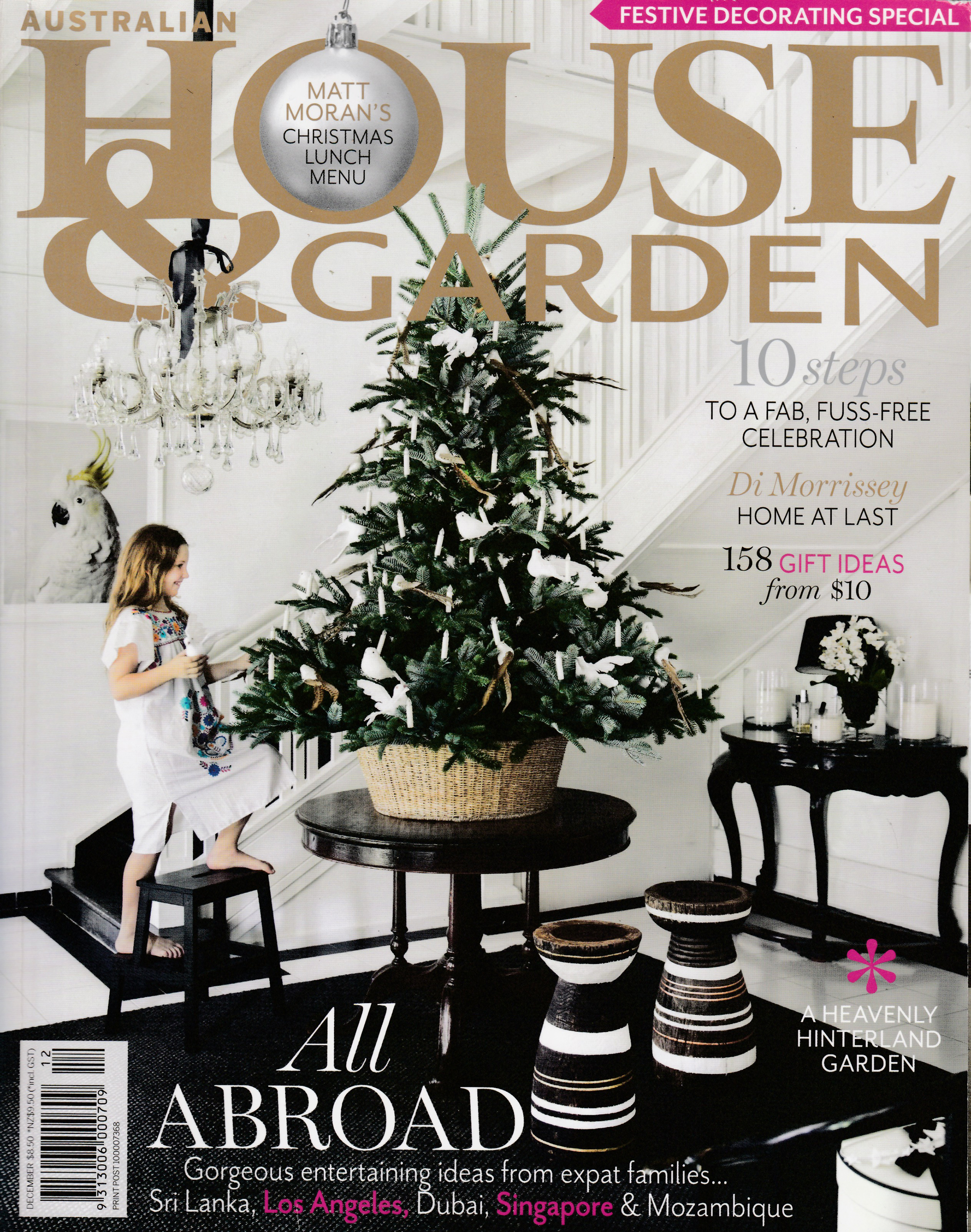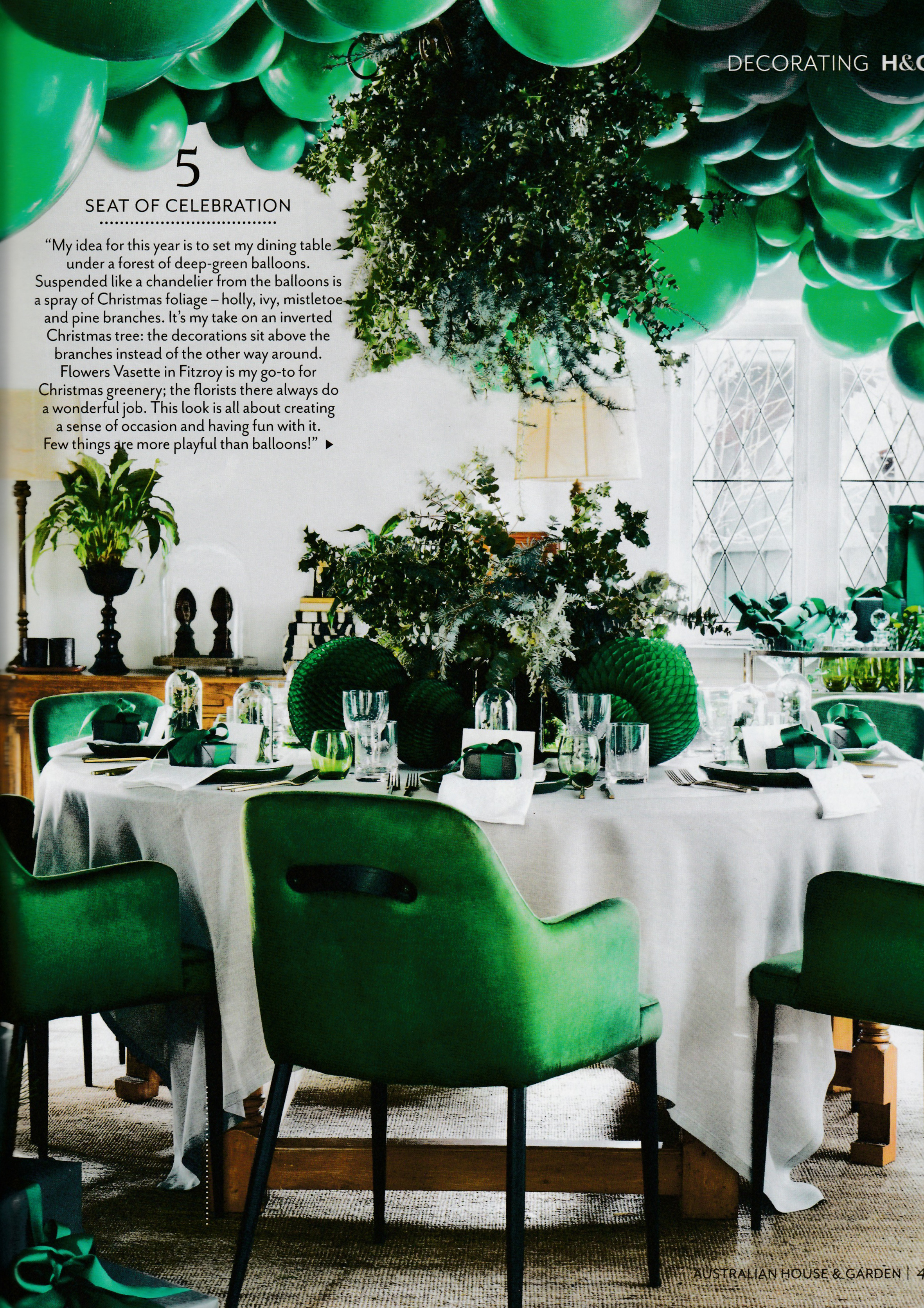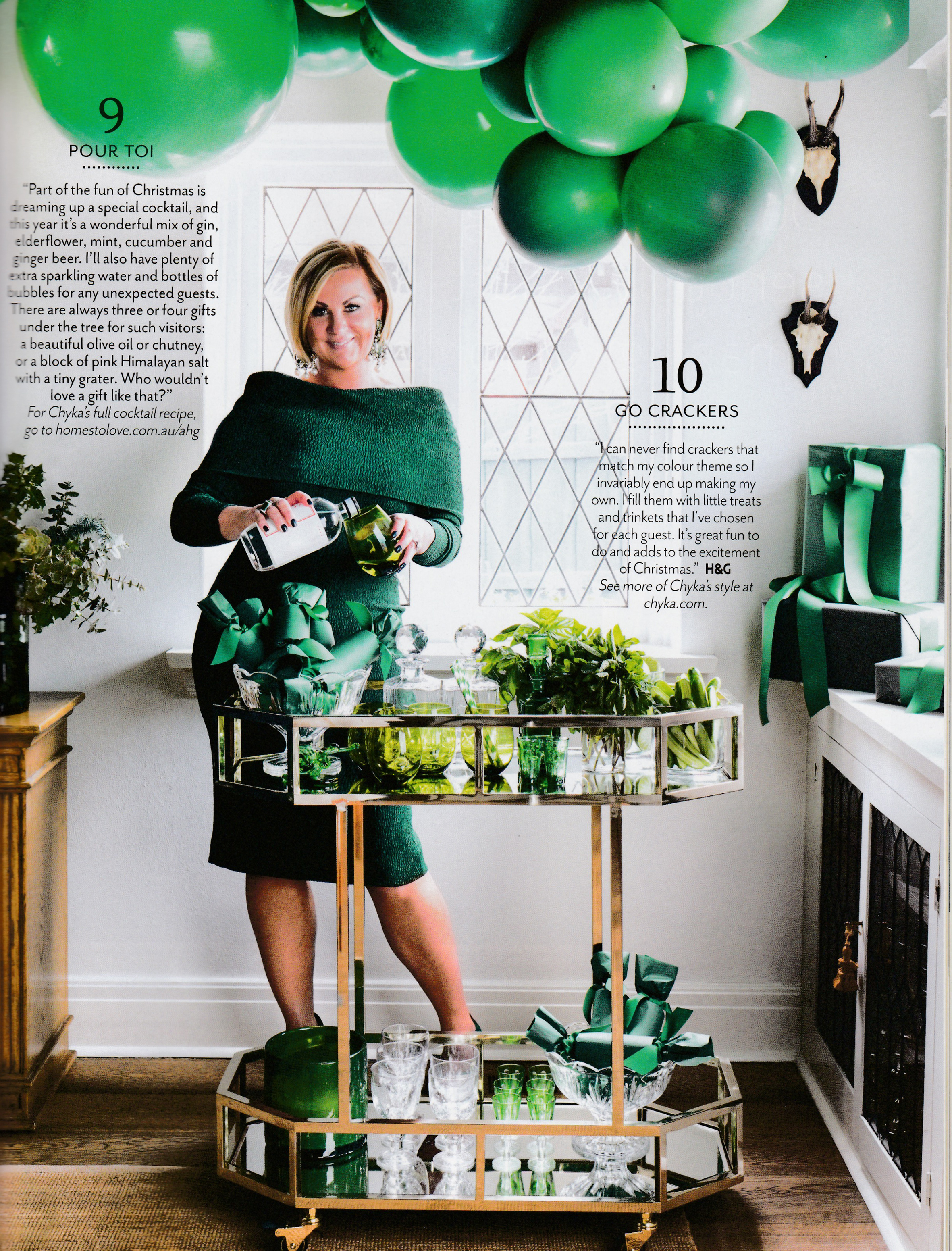 Australian House and Garden by Bauer Media
December Issue on sale now
Story : Sarah Pickette
Styling : Chyka Keebaugh
Photography : Martina Gemmola
White Chocolate Mousse Bauble Recipe
Makes 6
Mousse Ingredients:
White Chocolate Mousse Ingredients:
3 gold-strength gelatine leaves
100ml milk
250g white chocolate, roughly chopped
300ml thickened cream
1/2 vanilla bean (scraped)
Fondant Icing
Gold Edible Paint
Method:
Firstly mold the bauble hook by hand out of fondant icing. Paint with gold edible paint and set aside to dry.
Soften the 3 gelatine leaves in cold water for 5 minutes. Heat the milk and scraped vanilla bean pod and seeds in a small saucepan over medium heat until warm. Squeeze the excess water from the gelatine and add the leaves to the milk, stirring to dissolve.
Place the white chocolate in a bowl, pour over the warm milk and stir until chocolate has melted.
Whip the cream to form soft peaks, then fold into the white chocolate mixture. Set the mousse into half sphere silicone molds in the freezer for approximately 3 hours.
When the half spheres mousse are completely frozen, join the two half spheres to make a whole sphere. Put spheres back in the freezer until ready to be flocked.
Velvet Spray Chocolate Ingredients:
500 g white chocolate
200 ml vegetable oil
Velvet Spray (available at specialty cake decorating stores)
Method:
Melt both ingredients together, put the mixture into velvet spray.
Spray mousse sphere, turning carefully as you go. Return it to the freezer.
Before serving, place baubles cap on top of the spheres to complete the look
Chyka's Christmas Cocktail
Ingredients
50ml Gin
20ml Fresh Lime Juice
10ml Elderflower Cordial
8-10 Mint Leaves
1 Baby Cucumber, Quartered
Topped with Ginger Beer
Method
Pour gin, lime juice and elderflower cordial into chosen glass (O-glass or tumbler) and top with the Ginger Beer. Garnish with fresh mint and quartered cucumber longs.
A big thank you goes to the creatives that I collaborated with to make this setting possible…Robert Gordon for my gorgeous green plates, Flowers Vasette for the amazing foliage, Poppies for Grace for their amazing green balloons, My dress is from Scanlan Theodore, And of course a shout out to Brad from The Big Group for making the most beautiful bauble shaped dessert.