A Tomato Party in Positano
WORDS:: CHYKA KEEBAUGH
IMAGES :: Lisa atkinson + Bronte ratcliffe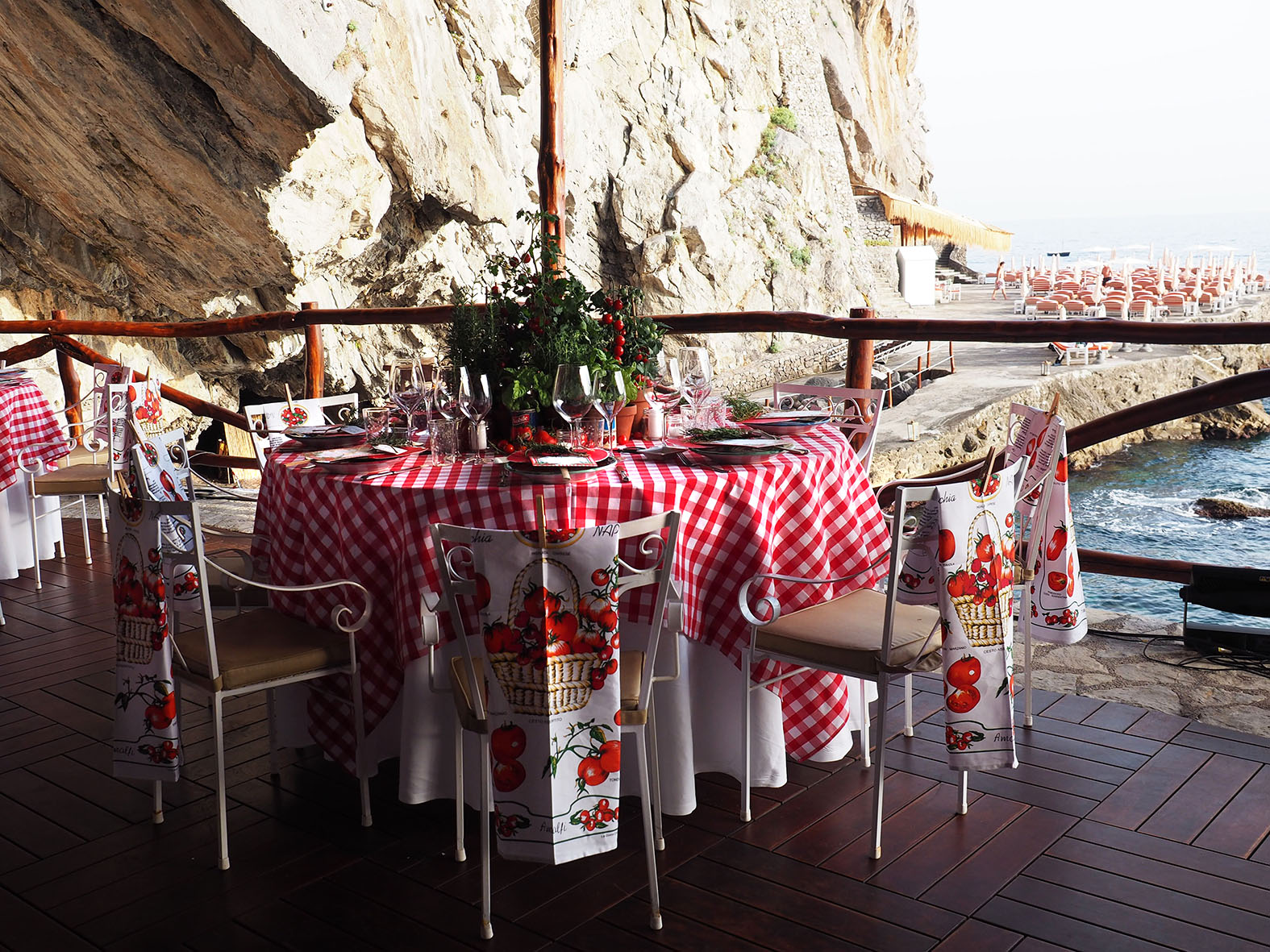 You simply cannot be in Italy and not have a tomato party!
Ok... so everyone who has read my book Chyka Home will know that I have a love affair with tomatoes. And seriously, one cannot be in Italy without being surrounded daily by tomato based deliciousness. So of course, the first party we had to celebrate BK50 had to involve the humble tomato.
Our favourite place in the whole world is the il San Pietro. Bruce and I go there every year and just love the time we spend in this Italian coastal paradise. The small beach cafe was absolutely the place we just had to have the party that kicked off the week-long birthday festivities and BOY! Did we have fun making that happen.
You know I love an entrance, and il San Pietro has one of the most amazing walks that I wanted everyone to experience. Guests entered the party by walking down the very steep staircase through the vegetable and herb gardens as a quartet of Italian musicians followed them. To cool down, they were handed an Aperol spritz and were left to mingle right before we all surprised Bruce with a surprise flash mob....! EEK! The look on his face was priceless, and I love watching the video to watch his face.
Guests were then taken to dinner, and each table was set in traditional red and white check with the tomato tea towels found in all good souvenirs shops in Positano. A wooden peg was used to hold them in the back of each chair like they had been pegged to a tomato stake! The centre of the table was filled with lots of baby tomato plants and fresh herbs. Old tomato tins held the Grissini sticks, and small scissors were on the table for guests to cut the fresh herbs to put into the salad.
Each place setting had a red fan and a printed menu that matched back to the invitation, and guest name tags had Fresh rosemary tied in with twine. Keeping the theme of a rustic tomato lunch, we continued to a palette of red, white and green which just looked amazing in this coastal setting. Keeping the menu on a theme, we were treated to a traditional anti pasta, caprese and of course, pasta for main. This was the dinner that launched our week of celebrating BK50, and it was just amazing to have those nearest and dearest with us celebrating.