A Sneak Peek Into The 'Good Room'
Have I ever introduced you to my 'green room'?
No, it's not the room you wait in before you go on television, it's the front room of our home. It is wood panelled and filled with books and a sexy bar. It is a very masculine space and one I retreat to when I need some peace and quiet. It doesn't have as much 'clutter' as my family call it (I call it character) as I haven't filled every inch with trinkets, candles, flowers or ornamental lighting. It's a dark and moody space, perfect for a nightcap or pre-dinner champagne. This room is all about the dark velvet green couch - as the only pop of colour in the room it makes such a strong statement.
You know I have to have candles in all rooms, but this room in particular gets the special treatment. I chose a fragrant candle that has beautiful thick green glass with a masculine smell of cigars and wood, the smell matches the decor and I love that special touch. This is a dark room that we intentionally made darker by wood panelling the wall. It encloses the space and makes it warm and cosy, perfect space for lighting the fire and hunkering down in winter. It also offers relief from the sun and heat in the summer. We have a secret bar set up behind the panelling - so James Bond! The couch that dominates the walls of this room is the dark green velvet that is pure luxury. Lying on it is like sinking into a comforting pile of cushions. This room was Bruce's study, and we found no one was really using it, so we removed the bookshelves and installed this amazing green velvet couch that was very much inspired by the gorgeous Nicholas Harding painting. Because this house is so layered, cluttered and full, it is lovely having a room that is straightforward and calm.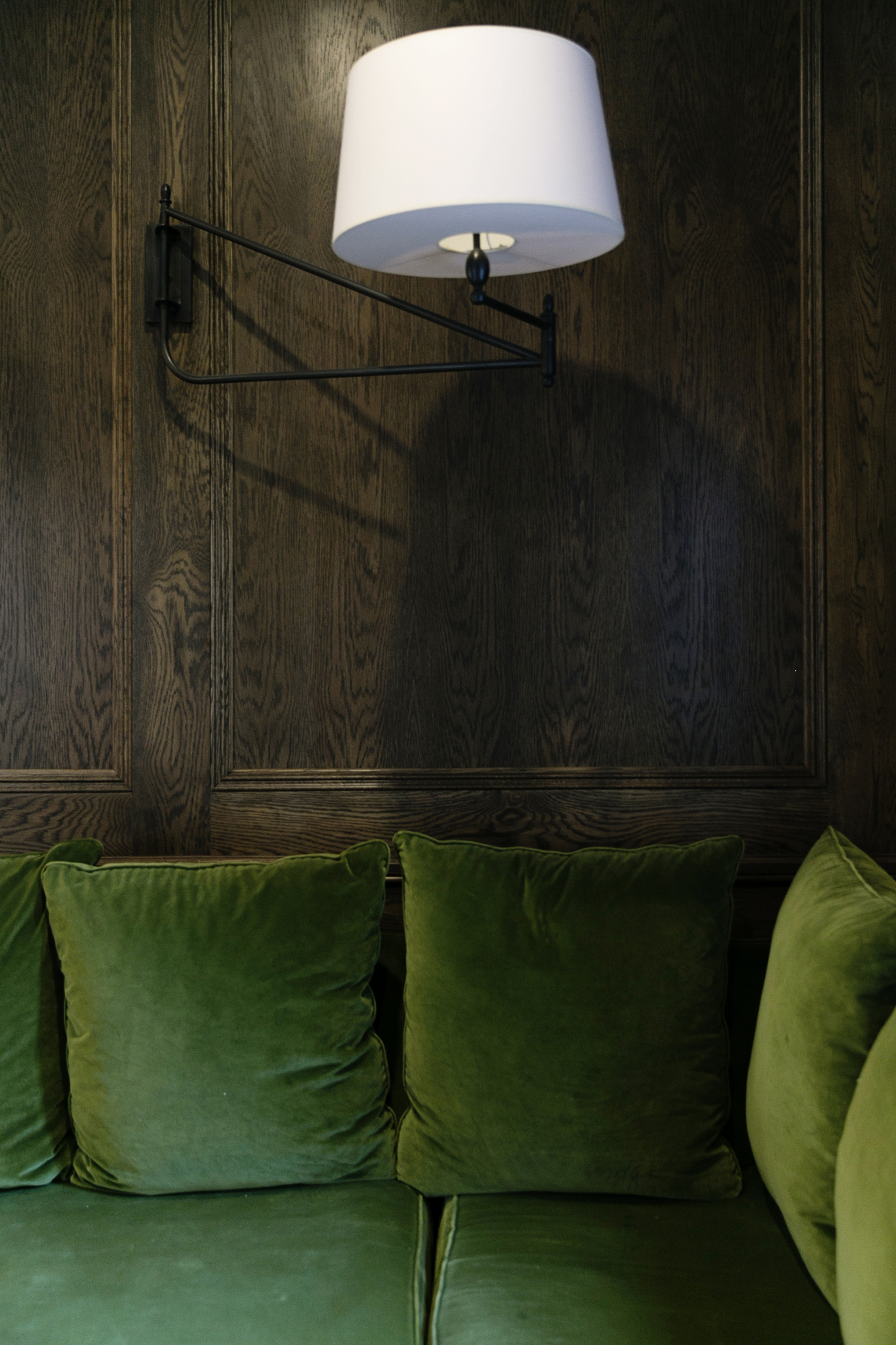 All the books were turned with their spines inward so we could only see the neutral tones of the pages. I love this look as you can use any books at all to create this look - a cheap and easy decorating tip! You can bring in some interesting heights and textures with this book tower, and it is a talking point when we have guests over. Bringing bright Kelly green into your home is a simple move as it blends well with all colour palettes. It works perfectly back with neutrals and although not the brightest of primary colours, certainly pops when it's in a simple space. I love the combinations of grey and green and navy and green and of course, a light linen and green. That pop of green adds a little twist on the traditional, and I think that is why I am so attracted to it. Try adding in some bright cushions and a throw to a basic couch, not too much green - just a dash here and there.
The lighting for this space needed to be well thought and planned, as it is such a dark room. We chose to highlight the wooden walls with down lights and a stunning feature light, but the majority of the light does come from well-placed candles and the dimming down lights. I'm not into big television screens, but this room has large 60-inch television, so as a family we love to snuggle down and watch a movie together, and with the gas fire on you can also find Ollie or Milo snoozing away too.
Introducing indoor plants into your space is totally on trend. It will make the air in your living space healthier, and you only need to flick through a current home magazine to find it filled with indoor greenery inspiration. I love keeping a space neutral and then bringing it to life with something fabulous like a Kelly green rug, a painted bookshelf or a painted coffee table. A small amount of quirk and colour can bring the space to life.
If your home allows you to have a special room (more commonly known as the 'good room'), then it is a luxury worth indulging in. We don't use our good room very often, which makes it even more special when we do. It's so nice to entertain in and also nice to spend some time in.