My Perfectly Pink Christmas Table

WORDS:: Chyka Keebaugh
PHOTOS:: Lisa Atkinson

In the lead up to Christmas nothing makes me more excited than to choose my colour theme for the season, and this year I have decided to go pink.

Is a table setting as important as the meal? I think so! Putting together the Christmas table is one of my most favourite things to do. After months of planning, gathering and making pom poms to hang on my Christmas tree, I was able to finally get to work on this pinky hued Christmas table that has been floating around my head all these months.
I adore how this table has turned out, it's so fresh and gorgeous and goes against the traditional colours and textures we tend to associate with Christmas. I recommend that you too have a think about some different colours to use this Christmas other than all the reds, greens and whites. Choose two or three colours that compliment one another and run with it; who knows what great festive looks you'll be able to achieve!?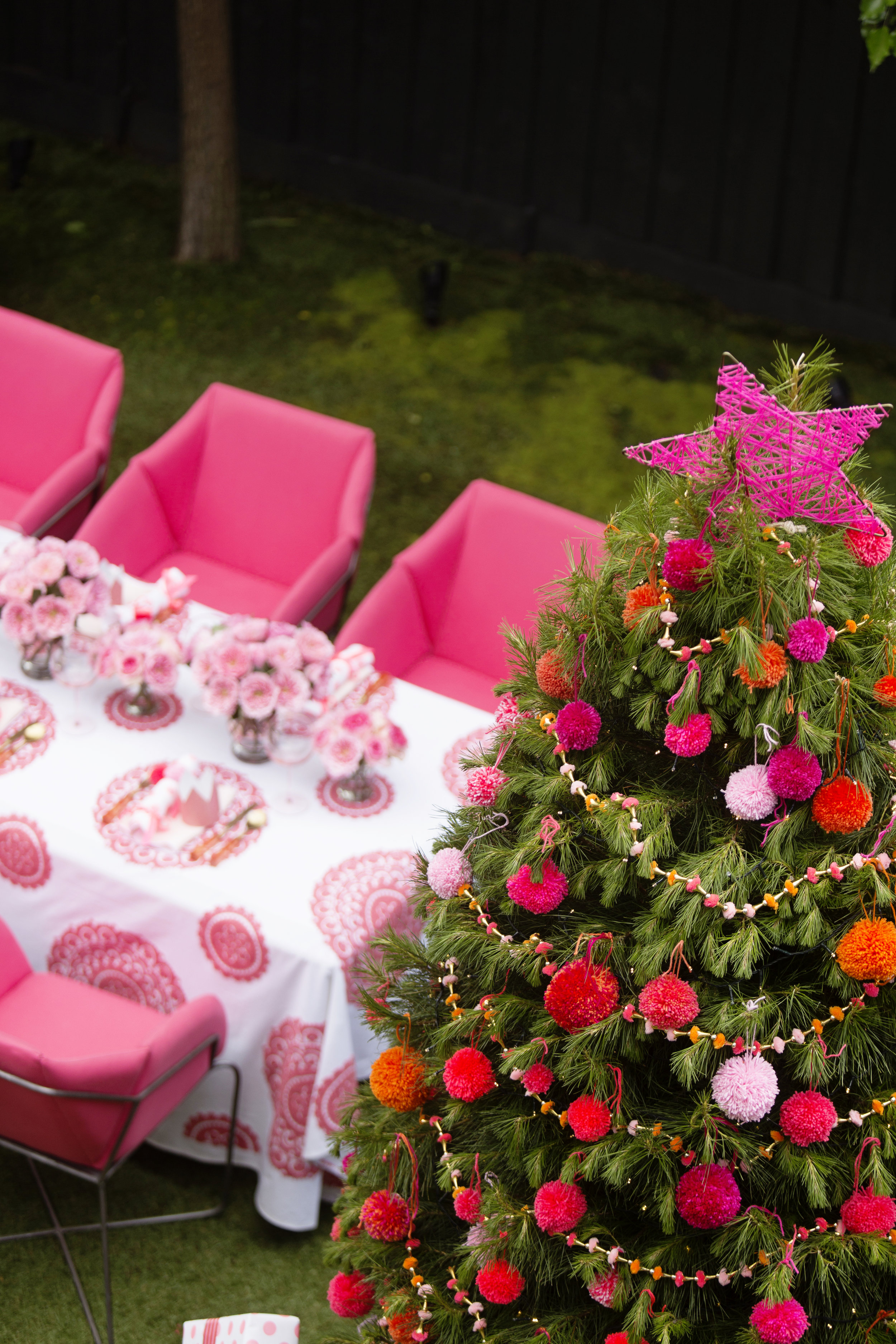 This amazing embroidered tablecloth I have used was bought on a my recent trip to India. It was honestly like one of those shopping moments you see all the time in the movies - you spot something you love, the price is right, and you snatch it up! As soon as I saw this cloth, I knew it would kickstart the palette for this Christmas. My orange cutlery is from Kip & Co, which sit sweetly on some simple tonal serviettes from Country Road. And my beautiful rose-tinged wine glasses are from Anthropologie, their gold rims are a lovely detail and are perfect for this setting.
Having a matching set of seats to your table is an absolute extravagance, and these pink beauties are from Canvas + Sasson and compliment the table so perfectly. To introduce some crafty DIY to the table I've included some handmade bon-bons and sparkly glitter crown made from paper. Sweet and simple enough to make on your own with a nod to the festivities of the day.
The final cherry on the cake are the Ecuadorian roses - they're intricate petals are exquisite that they almost don't even look real (but I assure you they are!). I've placed in vases of varying height all along the table, making the prettiest of centrepieces.
Tell me, what are your chosen colours from Christmas this year?